[cmsms_row][cmsms_column data_width="1/1″][cmsms_text]
[/cmsms_text][/cmsms_column][/cmsms_row][cmsms_row data_padding_bottom="50″ data_padding_top="0″ data_bg_parallax_ratio="0.5″ data_bg_size="cover" data_bg_attachment="scroll" data_bg_repeat="no-repeat" data_bg_position="top center" data_color="default" data_padding_right="3″ data_padding_left="3″ data_width="boxed"][cmsms_column data_width="1/1″][cmsms_image align="center" link="https://tepri.org/wp-content/uploads/2019/07/Screen-Shot-2019-07-19-at-12.38.47-PM.png" animation_delay="0″]7537|https://tepri.org/wp-content/uploads/2019/07/Screen-Shot-2019-07-19-at-12.38.47-PM.png|full[/cmsms_image][/cmsms_column][/cmsms_row][cmsms_row][cmsms_column data_width="1/1″][cmsms_text]
[/cmsms_text][/cmsms_column][/cmsms_row][cmsms_row][cmsms_column data_width="1/1″][cmsms_text]
Texas ERP Ends, LIHEAP Available to Help
BLOG POST | OCTOBER 1, 2020
By: Jacquie Moss, TEPRI Research Fellow
As of October 1, 2020, disconnections for nonpayment may resume for Texas residential retail electric customers. The COVID-19 Electricity Relief Program (ERP) was originally created by a Public Utility Commission of Texas (PUCT) order on March 26, 2020. Since then, the ERP has been helping unemployed customers of Retail Electric Providers (REPs) by providing protection from disconnections for nonpayment. As of today, disconnections may resume for customers to whom notice has been provided at least ten, but no more than 30, days in advance (PUCT, 2020).
The moratorium from service disconnections ends as the unemployment rate in Texas is double what it was this time last year and additional weekly benefits have run out. The statewide unemployment rate was 6.8% in August 2020 versus 3.5% in August 2019. Meanwhile, the additional federal funding for unemployment that provided out-of-work Texans an additional $300 per week was last paid for the week of September 5, 2020 (Texas Tribune, 2020).
At a time such as this crisis, the Low-Income Home Energy Assistance Program (LIHEAP) is our nation's first line of defense to address utility crisis, stabilize households, and address significant arrearages. LIHEAP helps to stabilize families and protects people from health conditions related to heat or cold, keeps electricity flowing to life-saving equipment for those with medical needs, and helps ensure that children do not have to complete their homework in the dark.
LIHEAP helps families pay gas and electric bills in all 254 counties in Texas (TDHCA, 2020). Community Action Agencies (CAAs) and a handful of other nonprofit organizations and governmental agencies distribute limited funds directly to utility companies on behalf of eligible customers who apply for services to help pay for electricity and gas (certain conditions apply). To be eligible for LIHEAP, Texas households must earn no more than 150% of the Federal Poverty Level. (In 2020, $39,300 per year for a family of four.)
CAAs and other providers in Texas will utilize an additional $94 million from the Texas Department of Housing and Community Affairs (TDHCA) to help eligible low‐income Texans pay utility bills. U.S. Congress appropriated these funds under the Coronavirus Aid, Relief, and Economic Security (CARES) Act. Meant explicitly to help those affected by the COVID‐19 pandemic, this supplemental funding was released in addition to the approximately $163 million that Texas was provided by the U.S. Department of Health and Human Services (HSS), Office of Community Services (OCS), Division of Energy Assistance (DEA), for fiscal year 2020 (HHS, 2020).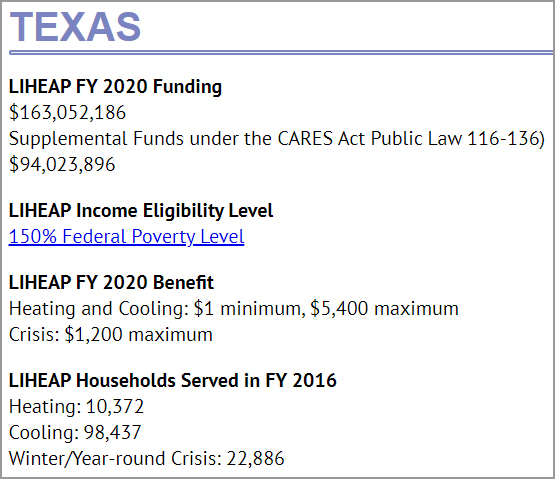 LIHEAP federal funding provided by the U.S. Department of Health and Human Services, Texas allocation for fiscal year 2020
According to the National Energy & Utility Affordability Coalition (NEUAC), recipients of these funds, living at the lowest levels of poverty, make choices every day between food or electricity, medicine or heating – choices that have been exacerbated by COVID-19. LIHEAP prioritizes vulnerable households. In 2019, 81% percent of LIHEAP recipient households in Texas had at least one vulnerable person — a senior aged 60 or older, a child aged 18 or under, or an individual with a disability (NEUAC, 2020).

Texas By the Numbers from the National Energy & Utility Affordability Coalition (NEUAC) Fact Sheet
» Texans interested in learning more about utility assistance can identify their local Community Action Agency (CAA) at:
https://tacaa.org/services-map, enable Flash plug-in to view this map.
» NEAUC has created a resource toolkit that organizations can use to customize their messaging and share across social media at:
https://neuac.org/resources/covid-19-resources, scroll down to "Customizable outreach materials."
Representing TEPRI, I serve as a Governing Board Member of the National Energy & Utility Affordability Coalition (NEUAC). As an active participant in this coalition of diverse member organizations and individuals dedicated to heightening awareness of the energy needs of low income energy consumers, I understand the important role of LIHEAP in helping to prevent disconnection from service, help families maintain their housing, and restore dignity by helping customers pay their bills in full and on time. NEUAC currently serves more than 200 member organizations that span the nation, providing tools to advocate for LIHEAP and other funding to support low-income families. NEUAC bridges the gap between states, social service organizations, and government to empower them to work together and learn from each other in times of energy and poverty crisis.
[/cmsms_text][cmsms_featured_block text_width="100″ text_position="center" text_align="left" color_overlay="#e2e2e2″ top_padding="0″ bottom_padding="0″ animation_delay="0″]
Crisis Snapshot:
[/cmsms_featured_block][/cmsms_column][/cmsms_row]