[cmsms_row][cmsms_column data_width="1/1″][cmsms_text]
[/cmsms_text][/cmsms_column][/cmsms_row][cmsms_row data_padding_bottom="50″ data_padding_top="0″ data_bg_parallax_ratio="0.5″ data_bg_size="cover" data_bg_attachment="scroll" data_bg_repeat="no-repeat" data_bg_position="top center" data_color="default" data_padding_right="3″ data_padding_left="3″ data_width="boxed"][cmsms_column data_width="1/1″][cmsms_image align="center" link="https://tepri.org/wp-content/uploads/2019/07/Screen-Shot-2019-07-19-at-12.38.47-PM.png" animation_delay="0″]7537|https://tepri.org/wp-content/uploads/2019/07/Screen-Shot-2019-07-19-at-12.38.47-PM.png|full[/cmsms_image][/cmsms_column][/cmsms_row][cmsms_row][cmsms_column data_width="1/1″][cmsms_text]
[/cmsms_text][/cmsms_column][/cmsms_row][cmsms_row][cmsms_column data_width="1/1″][cmsms_text]
PUCT ERP Summer Relief
BLOG POST  |  JULY 25, 2020
By: Jacquie Moss, TEPRI Research Fellow
UPDATE (8/17): This post has been updated to reflect the latest information regarding the PUCT ERP. See the addendum below for additional details.
On July 16, the Texas Public Utility Commission voted to extend the state's Electricity Relief Program (ERP) through August 31, 2020. This program, which came into effect on March 26 in response to the COVID-19 crisis, offers disconnection protection to low-income and unemployed Texans in the state's competitive retail areas. The ERP is specific to people living in deregulated areas (see map below) who are able to choose their electric company (also called a Retail Electric Provider or "REP").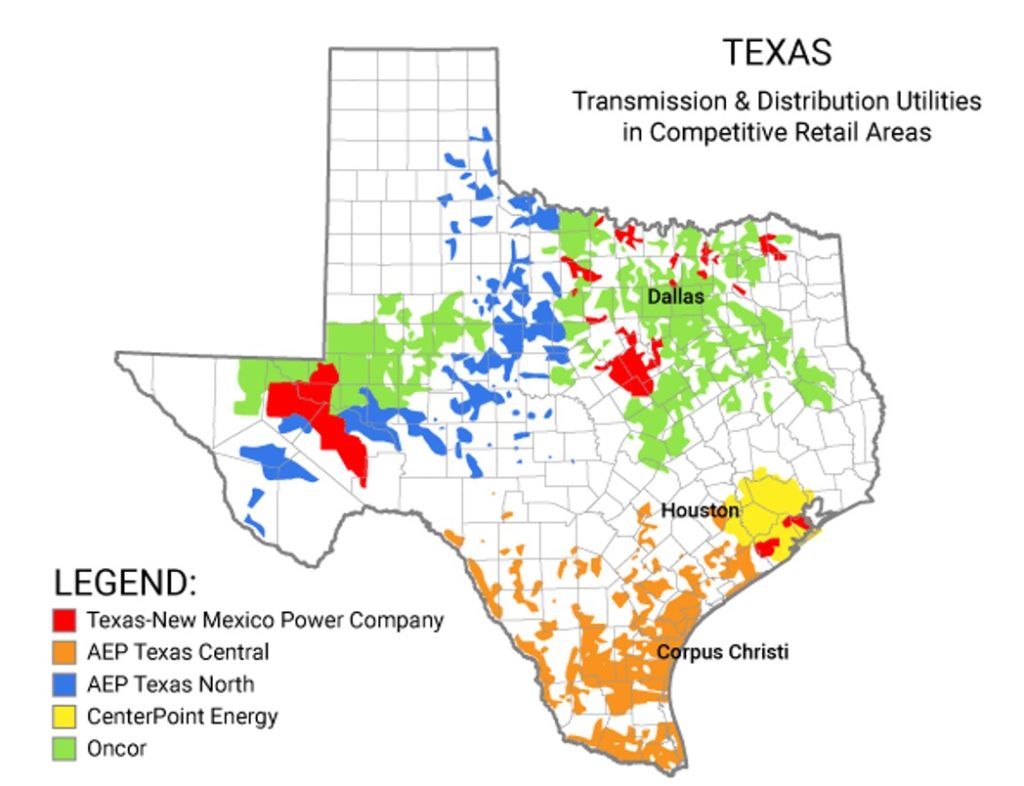 This map shows the parts of the state that participate in electric choice. These customers receive their electricity from one of five "wires" companies (also called Transmission and Distribution Utilities), regardless of which company is selling a customer electricity (the Retail Electric Provider or REP). TDUs read meters, respond to service interruptions, and continue to maintain the poles and wires. Image source: Direct Energy
Summary:
Enrollment in the ERP indicates that a customer is

protected from disconnection

.

All ERP customers should (but are not required to) set up a

Deferred Payment Plan (DPP)

and pay what they can. 

Financial assistance

is triggered once an enrolled customer would have otherwise been disconnected for non-payment.
Customers receiving SNAP and/or Medicaid benefits are automatically enrolled in the ERP.  Customers who are not receiving SNAP and/or Medicaid benefits may self-enroll if they are experiencing hardship because of unemployment related to the COVID-19 crisis.  Customers may self-enroll at http://TXCOVID19ERP.org. Self-enrolled customers will need to provide documentation of unemployment within 30 days of making their application.
As of July 2, 2020, there were 560,000 customer accounts that were being protected from disconnection under the ERP, according to Andrew Barlow, Director of External Affairs at the PUCT. Of these, just over 480,000 were automatically enrolled because they are enrolled in SNAP and/or Medicaid. These accounts are matched at the end of each month when the Texas Health and Human Services Commission presents its latest list to Solix (the PUC vendor that serves as the state's Low Income List Administrator).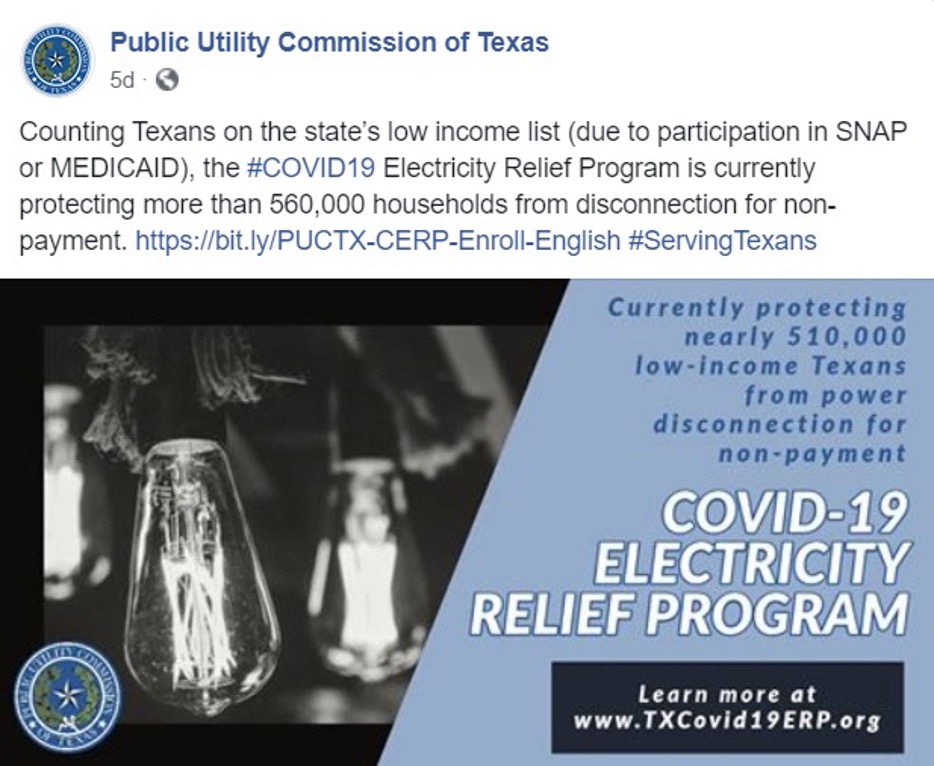 PUCT posted to Facebook on July 10, 2020 with this public announcement of the Electricity Relief Program. Source: Facebook @puctx
On the 15th of the month, TDUs are required to report the number of reimbursement claims reported by REPs (as Filing #50703). Customers are counted by "ESI IDs," and the total count represents how many customers have received financial assistance. As of the reporting period on July 15 (through June 30, 2020), the number of customer accounts that have received financial assistance was 102,778. These numbers mean that about 18% of customers (out of 560,000) who are enrolled in the ERP would otherwise have been disconnected.
There is a common misunderstanding of the ERP. Enrollment in the program protects a customer from disconnection, yet it does not mean that a customer is automatically receiving financial assistance. If the ERP customer's account reaches the point that they would otherwise (if not enrolled in the ERP) be disconnected, the REP requests financial assistance and, if reimbursed, passes the savings along to the customer. I offer the following scenario to describe the steps that proceed financial assistance.
Example of a customer experience:
Customer is unemployed, so they

enroll

in the ERP by way of Solix (providing proof of unemployment).

Solix (the PUCT's vendor that serves as the state's Low Income List Administrator) compares all enrollees to the REP's customer list and gives the REP a list of all of their enrolled customers.

REP protects all customers on the list from disconnection

.
Customer receives their electric bill and is unable to pay their bill. They do not pay.

The customer may or may not receive a

disconnect notice

, even if they will not actually be disconnected because of ERP protection (this step will vary by REP).

REP contacts the customer and offers a

deferred payment plan (DPP). Note: In the interest of speed, customers may want to proactively reach out to their REP to set up a DPP or to let the REP know that they are unable to make payment.

If the customer agrees to a DPP, the REP must give the customer an opportunity to make payments against the DPP. 
If the customer still fails to make a payment, the REP has to attest that they have offered the customer a DPP, attest to the fact that the customer is otherwise eligible for disconnection, then submit a request for

financial assistance

.

Financial assistance consists of two elements: (1) suppression of regulated delivery charges from the transmission and distribution utility; and (2) a $0.04/kWh credit toward the cost of energy. The two elements may be applied to the customer's account at different times because of differences in processing timelines.

Customers remain responsible for any unpaid balances (remaining after ERP financial assistance) and should continue to make payments as they are able to avoid accruing a large unpaid balance at the end of the program.
Given what we know about the ERP to date, we are interested in gathering your questions as well as actual customer experiences. We have the following specific questions.
Are households on SNAP and/or Medicaid (who have been auto-enrolled) aware of the ERP?

Are customers who have enrolled in the ERP assuming that they're receiving financial assistance because they are enrolled?

Do customers take other measures, such as using a credit card, to avoid the step that would otherwise trigger a disconnection?

What sort of debt are customers accumulating because of moving to a deferred payment plan?
We hope this information can be widely distributed to raise awareness of ERP, how it works, and what customers might expect when engaging with the program. Please reach out if you have questions, comments, or thoughts to offer.
Do you or someone you know need assistance with your electricity bills? Anyone who has or will file for unemployment with the Texas Workforce Commission is encouraged to request enrollment in the program by visiting http://TXCOVID19ERP.org or calling 866-454-8387.
[/cmsms_text][cmsms_featured_block text_width="100″ text_position="center" text_align="left" color_overlay="#e2e2e2″ top_padding="0″ bottom_padding="0″ animation_delay="0″]
UPDATE (8/17):
At the open meeting last Thursday, August 13, the Public Utility Commission of Texas (PUCT) approved staff's recommendation to end ERP enrollments on August 31, 2020, and to end program benefits on September 30, 2020.
Commissioner Walker clarified that the Deferred Payment Plan (DPP) is not part of the ERP and is not ending. She indicated that it will stay in place for the foreseeable future as the state is still under Governor Abbott's COVID-19 disaster proclamation.
According to utility filings under PUCT Filing #50703, the number of customer accounts that received financial assistance through July 31 was 130,472.
[/cmsms_featured_block][/cmsms_column][/cmsms_row]