NEWS FROM TEPRI
August 2022

When it rains it pours (and we are finally getting some much-needed rain)! Our vision for an equitable energy transition is gaining traction throughout the country and the state. Unprecedented federal funding from the Infrastructure Bill and the Inflation Reduction Act include meaningful investments for underserved communities. And, for the first time in our nation's history, the federal government has made it a goal to direct 40 percent of the overall benefits of certain federal investments to disadvantaged communities through the Justice40 Initiative.
What kinds of investments fall within the Justice40 Initiative? The categories of investment are: climate change, clean energy and energy efficiency, clean transit, affordable and sustainable housing, training and workforce development, remediation and reduction of legacy pollution, and the development of critical clean water and wastewater infrastructure.
The State of Texas is also taking bold steps to update our energy delivery model. The Public Utility Commission just launched the Aggregated Distributed Energy Resources (ADER) Task Force to pilot projects that provide local generation to the grid. TEPRI is represented on the task force to help ensure underserved communities will benefit from reliable and sustainable energy from distributed energy resource innovations.
Over the next decade, Texas will need to transition to new energy models that improve grid stability and hasten the transition to cleaner sources of energy. The lynchpin to a successful energy transition in Texas relies on identifying strategies that meet the needs of the over 3.8 million low-income households in Texas, who are disproportionately burdened by high energy costs. At TEPRI, we are excited by a range of solar, virtual power plant, and energy efficiency projects in our pipeline that have the power to usher in an energy transition that is equitable, affordable, reliable, and clean!
Warmly, Margo
NEWS FROM TEPRI
Aggregated Distributed Energy Resources (ADER) Are Coming to Texas
We are delighted to announce that TEPRI Executive Director, Margo Weisz, and Board Member, Drew Higgins from CPS Energy, have been appointed to the PUC's Aggregated Distributed Energy Resources (ADER) Task Force. Additionally, several of our members, including Vistra Corp, AEP and Oncor are also represented.
Distributed Energy Resources (DERs) have tremendous potential to stabilize the grid, expand the use of clean sources of energy, optimize energy use and cost, and provide a reliable energy source to residents during an outage. TEPRI is exploring DER models that can meet the needs of residents from a broad spectrum of socio-economic backgrounds.
What are DERS?
DERs are smaller energy generation or storage resources that are located near their user. Typically producing less than 10 megawatts of power, DER systems may be connected to the local electric power grid or isolated from the grid as stand-alone energy providers. Examples of DERs include roof-top or community solar, wind turbines, battery storage, electric vehicles, demand response systems, and virtual power plants.
TEPRI's Low-Income Energy Relationship Report Launching Soon
We are excited to announce that we are preparing to launch our Low-Income Energy Relationship Reports! This state-wide collection of data will aim to provide region-specific approaches to energy cost burden reductions. A people-centered research project, our goal is better identify low-to-moderate income (LMI) Texans' relationship with energy across the state. Using surveys, interviews, and focus groups, we will engage with LMI community members to understand their lived experiences with energy, their energy burdens, and their perspectives on clean energy participation. The survey will deepen TEPRI's knowledge of the key demographic indicators of underserved communities, their relationship with energy services, and the opportunities and barriers for clean energy deployment. This study will be organized with standard metrics by which utilities, regulators, and other stakeholders may monitor changes to community profiles over time as we strive for more equitable energy systems in Texas.
Webinar Replay: TEPRI & Foundation Communities Discuss Sustainable Energy for Low-Income Housing Developments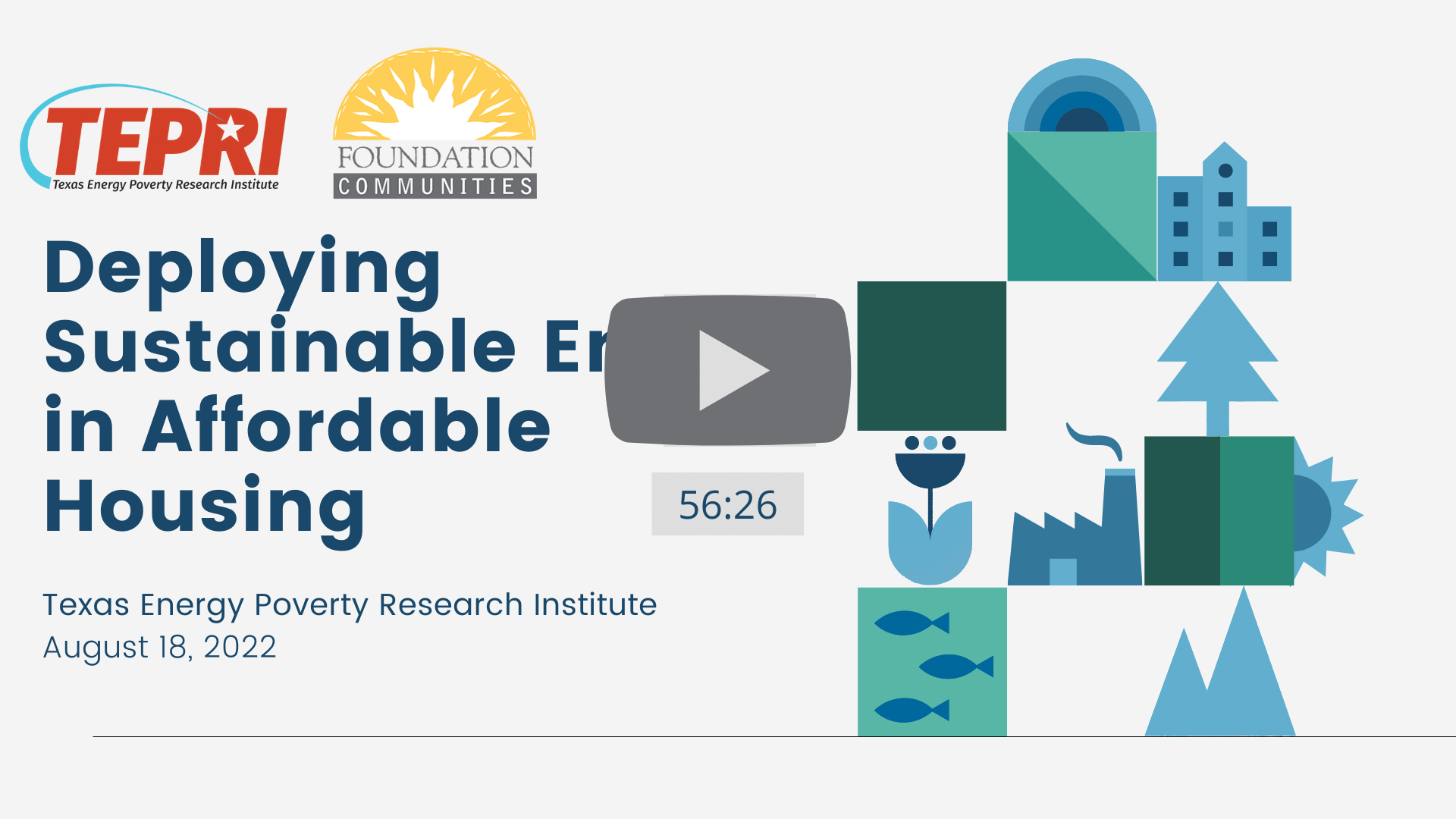 Last week, TEPRI's Andrew Robison and Katelynn Essig from Foundation Communities explained ways to encourage developers and property managers to incorporate energy efficiency and solar upgrades into new and existing multifamily developments. By providing detailed information on the costs and benefits of energy efficiency upgrades, examining some of the available state and local financing options, and exploring some of the promising energy efficient technologies on the horizon, TEPRI and Foundation Communities are working towards affordable, reliable, and sustainable energy for low-income communities in Texas. Watch the presentation now!
Rising Energy Costs Cause Texas Families to Make Difficult Decisions
On our blog this month, Margo Weisz explains the reasons for the spike in energy costs and the need for better strategies to improve living conditions for Texas' LMI communities. Rising energy prices, including gas and electricity, are putting the health and economic stability of vulnerable and lower-income Texans at stake. Click here to read Margo's blog post.
ICYMI: TEPRI Released an Energy Equity Primer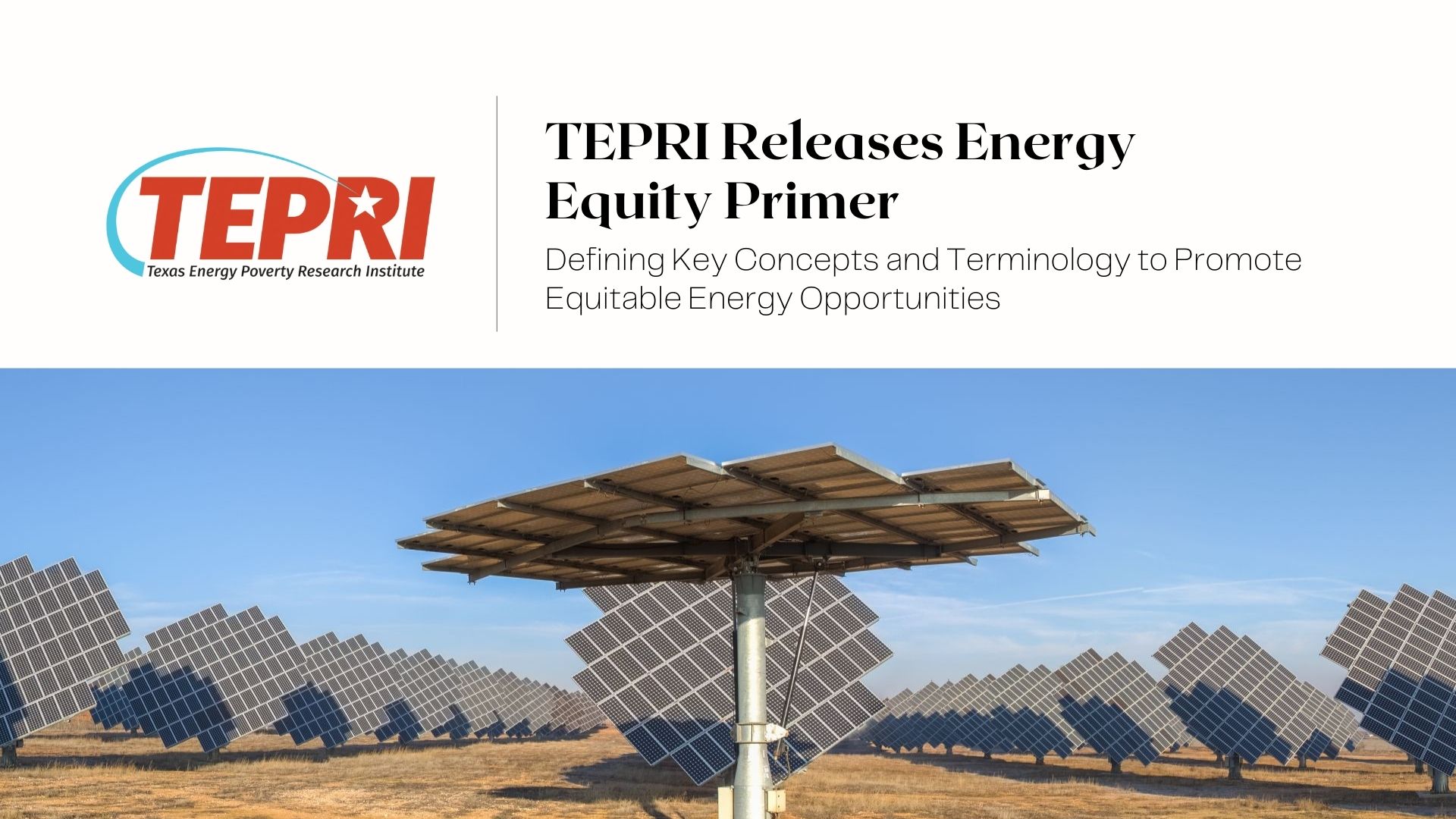 TEPRI developed a primer to guide language and understanding of the issues affecting the equitable energy transition. Our Director of Research Bobuchi Ken-Opurum, PhD breaks down why this language is important in the push for energy equity. Read the full post here.
Exploring Key Energy Equity Data in South Texas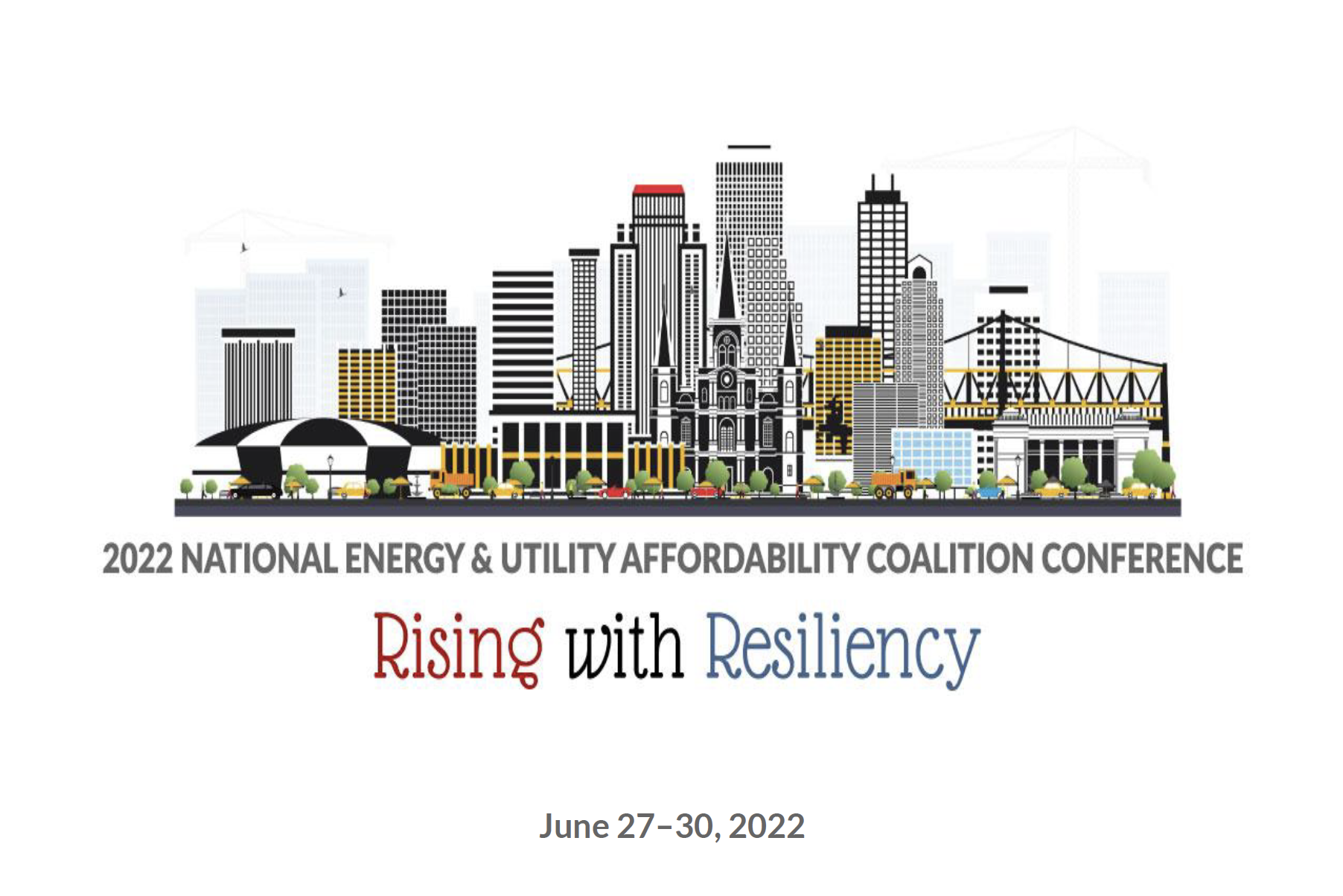 Co-presenting with the Southeast Energy Efficiency Alliance (SEEA), our research analyst Andrew Robison presented at the NEUAC Conference in New Orleans, LA on June 28th. Their breakout session provided a particular focus on opportunities for improving access to energy efficiency in the Southeastern U.S. with a racial equity lens. Andrew discussed topics including the disproportionate energy burdens and greenhouse gas exposure faced by communities in South Texas. Click here to view Andrew's Presentation Slides from NEUAC.
TEPRI IN THE NEWS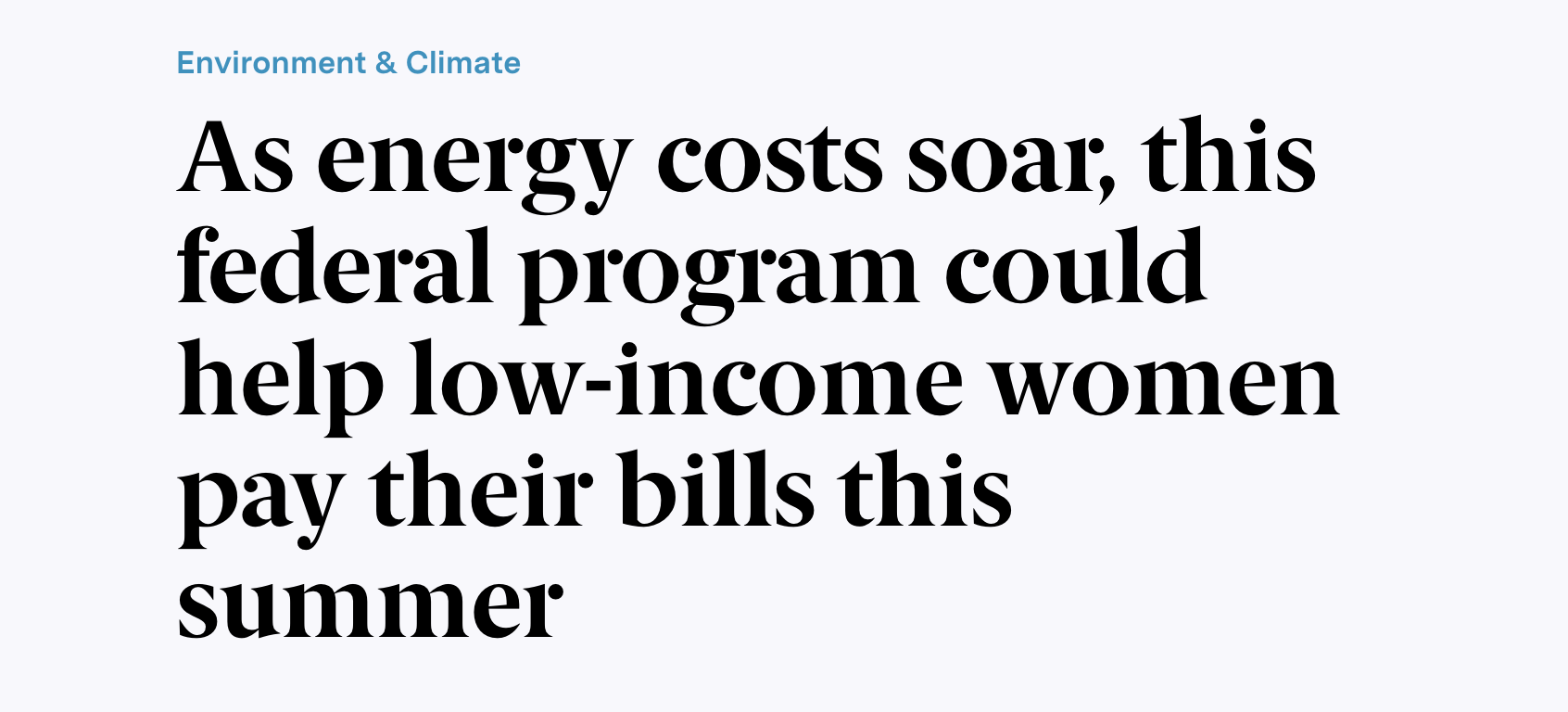 We were grateful for the opportunity to visit with The 19th earlier this month to discuss LIHEAP and effects on LMI communities in Texas.

Dana Harmon was quoted in Popular Science and referenced TEPRI's survey about the aftermath of Winter Storm Uri.

TEPRI was mentioned in CNN's article on how the increasingly hot temperatures in the south are directly affecting low-income families in Texas.
FEATURED EVENT

Margo Weisz is speaking on the first day of SPEER's 2-day Policy and Industry Workshop, her panel will cover low-income energy efficiency barriers and solutions. The conference is taking place at Lone Star Court on September 26 and 27. For more information, click here.